My clients say it best ...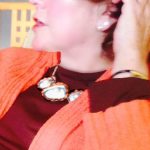 Diane
Love, love , LOVE it. I was out all day and came home and saw that my necklace arrived. Made my day. Thank you SO much. It's so much more than I hoped for!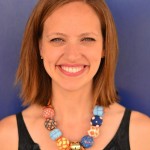 Joy Hopkins
I am in love with the piece you made for me. It is simply perfect in every way. I love how your custom work is an expression of the people that wear it. You have such a remarkable talent of capturing the essence of people, places and things. Thank you!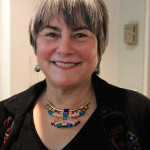 Linda
Thank you, Veruschka. I'm in love with this piece. What a beautiful birthday present to myself. The necklace is beautiful.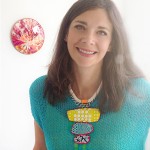 Veruschka's ability to conceptualize and sculpt unique & hip creations is unmatched. She is an exceptional artist who has her own style. I love my new necklace and think of it like a work of art as much as a fashion statement. It is such a striking piece that everyone at the office was asking me about it. I received A+ customer service. When I needed to receive the necklace before an event, Veruschka was super quick to respond and sent it out right away.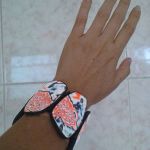 Wendy
This bracelet is AMAZING!!!!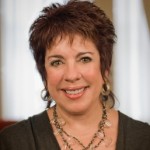 Karen Davis
Former President & CEO Arts & Business Council of Greater Philadelphia
...both You and your Art! I am absolutely overwhelmed. I'm throwing a 90th birthday party for my Mother over the holidays and 150 people are attending. But they will all be looking at me because I intend to wear the magnificent "Re-Birth Necklace" and proclaim my re-birth to our family and friends. I cannot thank you enough for your amazing art .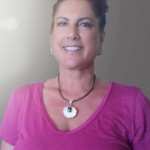 Arielle Ford
Best-selling Author, Speaker, Life Couch / Arielle Ford
I received the pearls today and they are absolutely STUNNING! I can't wait to finally start wearing them. Thank you so much for your creativity and generosity.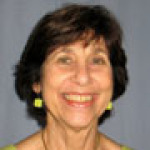 Leslie Lenox
Just got home and saw my beautiful VeruDesigns box. Then I opened it and yelled a bit of wows, put on my beautiful happy bracelet ( probably will wear it to bed) and then the great necklace. I'm still smiling. Wow. Thank you!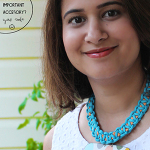 Purva
I am in love with my La Gran Sonrisa! Thrilled to receive it and it came so beautifully packaged. Veruschka, your work is exquisite and the attention to detail and the effort you invest in every aspect of your work makes the experience a journey of love.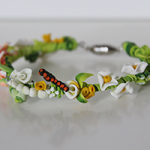 Yolanda Cole
I received my custom bracelet and matching earrings this week and they are FANTASTIC! Thank you very much. I especially enjoyed the caterpillar….!!!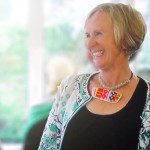 Vera Arns
Teacher, Traveller, Wife, Mom and Grandmom
I've been a huge fan of Veruschka's work for a long time. So, when my birthday approached I decided to treat myself to something very special. And oh my goodness! What a surprise it was to receive this beautiful Necklace from the "Bolivian Goddess" Collection. I knew it was very beautiful from the pictures on her shop, but they don't do justice to the beauty of these extraordinary necklaces. The detail, the colors, the size, weight, comfort, EVERYTHING is so much better than you already think it is. Was it worth it? Much, much more than that. I got so many compliments and continue to get them every time I wear it. It's become my secret weapon for every time I feel slightly down. I just put it on and feel wonderful again. If you've been thinking for a while about buying one of Veruschka's pieces, DO IT! Before she gets too famous!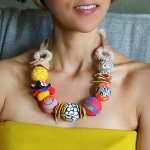 Mary
My "Red Blue & Yellow" necklace is a stunning piece of art, which I love to wear! And it goes with so many different colors and looks. You will not be surprised to hear that absolutely everyone comments on it. No one has seen anything like it! Your attention to detail is amazing. I also enjoyed the story behind the necklace, and I am privileged to own it. Thank YOU!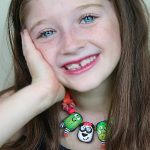 Melissa & Amanda
I just wanted to thank you again for the AMAZING necklace for Amanda. She wore it all day (wouldn't take it off) and got many compliments, everywhere we went. She even hid the necklace away because she didn't want her brother "touching it". LOL Also, she had THE BEST TIME at the photo shoot. You did such a good job making her comfortable. Thank you again for everything! - XO Melissa and Amanda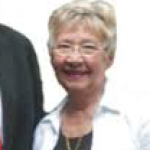 Nancy Thompson
What a wonderful necklace!!!!! It arrived today with all the beautiful accompaniments -the box, jewelry bag and lovely explanations. I am so thrilled to have a VERU original. It is even more special knowing you personally. I already received many compliments and inquiries about it and will be sure to direct them to your web site. You are a true artist and have found a wonderful way to express your inner talent and your love of beautiful things, Thank you so much. Blessings to you.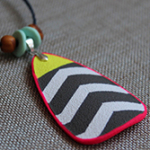 Krista
I absolutely LOVE, LOVE, LOVE the necklace you made for me. You are so sweet!! You completely read my style as well, those are all of my favorite colors!! - Krista
ABOUT VERU DESIGNS

I believe that Jewelry chooses you , as much as you choose it.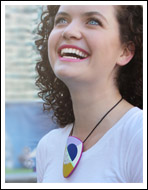 I'm a big fan of women who love their bodies, but know that their true power is in their minds & hearts. Women who are unafraid of wearing a statement necklace  that will guide people's attention towards their eyes, words and their sexiest curve: An authentic smile.
I love colors, patterns and texture, because like you, they express the many dimensions that make up your feelings, thoughts and intentions as you step into your world every day.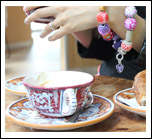 I am a coffee lover! And believe that a great Barista is like a great Jewelry Designer. Craftsmanship is what it's all about. Pouring passion and love into each coffee cup, or jewelry piece, as if it were the first and last of its kind. Because it is.
I'm a woman who likes fashion, but LOVES style . A woman who adores being a woman, and who trough the art of jewelry making, has found a way of celebrating that gift, every day.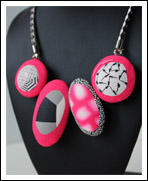 VeruDesigns is an American Brand, lead by a Bolivian woman, who hopes you'll find among our jewels the perfect means of self-expression in your journey towards awakening to who-you-really-are .

So grateful for our recent features in these beautiful publications! 

See our latest interview featured on SEASON II of "Articulate with Jim Cotter" on PBS nation-wide!
About Veruschka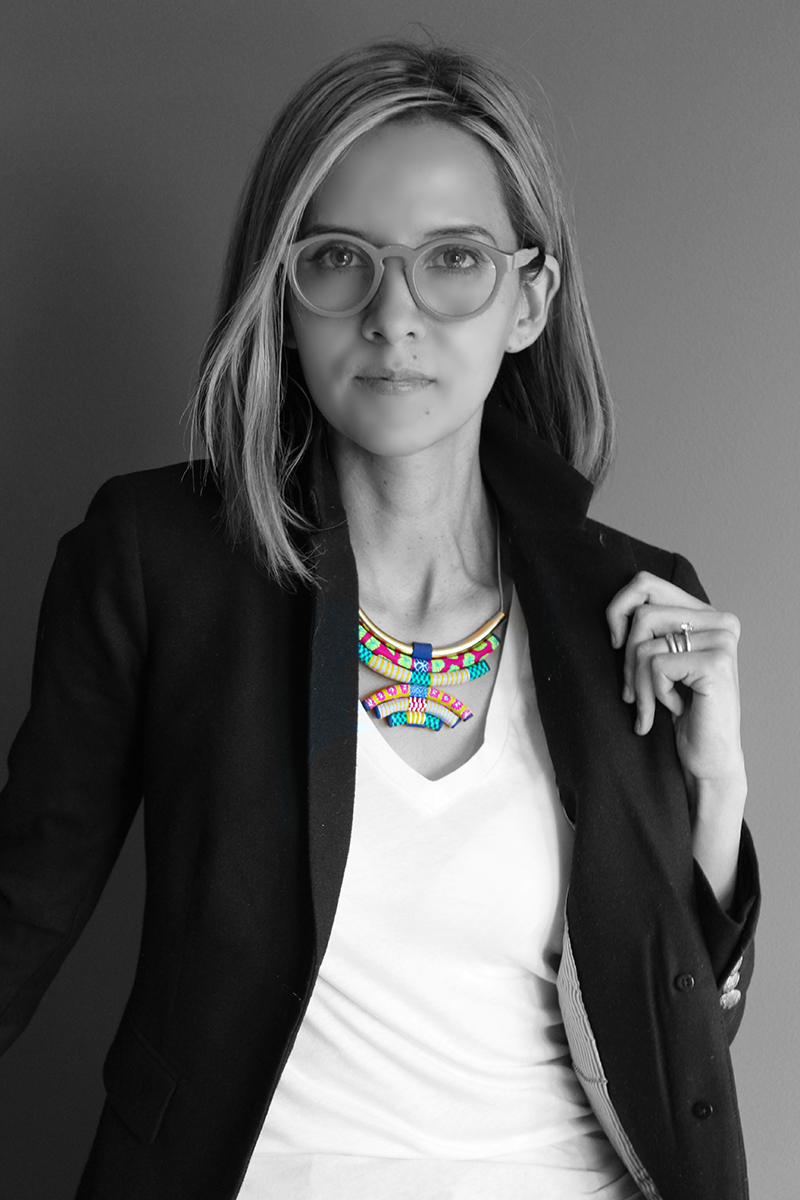 President, Founder & Principal Artist
Hi! I'm Veruschka. I'm a Bolivian woman, raised in Germany and Bolivia and now a citizen of the world. I'm also a Software Engineer turned soul-centered, polymer clay artist and jewelry designer/maker, and as such an entrepreneur, writer, a student of life, a lover of everything that is beautiful and meaningful in couture fashion, art, nature and most importantly, the human spirit. 
After going through the life-changing event of losing my closest sibling to cancer, the meaning of life took a complete turn. The idea of living a much more purposeful life became a huge priority for me. Death is such a normal part of life, yet it's the most isolated, powerful and in most cases painful experience a human will go through. The effects of death vary from person to person. In my case, the passing of my Chris translated into leaving a big career as an SAP Software Project Manager in Corporate America, and becoming a fulltime Entrepreneur and the Artist that (I realize now) I was born to be.
I create beautiful Art pieces and Jewelry Collections for YOU, but also for fashion designers and exclusive boutiques across the US. I've done commissioned work for some of the biggest fashion magazines in the US (Glamour, Teen Vogue, Elle, Marie Claire, etc), as well as for large clothing and home decor retail stores, creating jewelry collections inspired by their beautiful products.
If this is your first time visiting my little universe, the best way to get a sense of what VeruDesigns is all about, is by visiting our shop  and/or having a look at my most recent blog posts (you can see my last 3 further below!).
Thank you for visiting and have fun!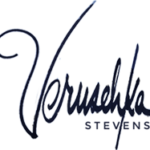 My latest blog posts/newsletters!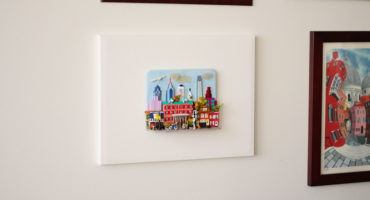 Today's post marks an official shift…or better said, a long overdue expansion in my world. Even though VeruDesigns was born […]
Read More

›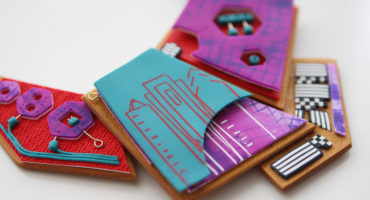 Today I'm going to cover a question that I get asked quite frequently: What is my actual "process" for creating a custom jewelry piece. To answer, […]
Read More

›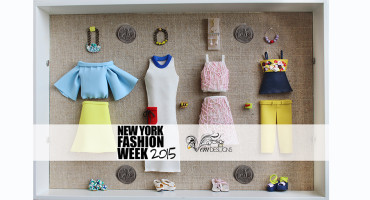 if you love beautiful fashion, art, and the deliciousness of anything super tiny, cute and small, this post will bring a […]
Read More

›