Happy Tuesday! I've been looking forward to visiting your Inbox for several days now! Today is a very special edition of our newsletter for two reasons:
FIRST: OUR FIRST 2015 JEWELRY EXHIBIT

AT THE COSMOPOLITAN CLUB OF PHILADELPHIA 
I've been working very hard designing and finishing several brand-new jewelry pieces for our upcoming EXHIBIT at the prestigious COSMOPOLITAN CLUB, right here in center city Philadelphia.   This historic organization, is one of the most prestigious supporting institutions of the Arts. The gorgeous Cosmopolitan Club hosts four exhibits a year in its historic building, featuring carefully selected Artists of different realms of expertise. I'm very honored to have been asked to be part of their very first exhibit of the year, along with 3 other incredible Artists.
Pearl Rosenberg whose paintings and drawings demonstrate a mastery of light, color and form.
Connie Moore captures the essence of a place or a person with a single, indelible ink line.
Tara Bellofatto takes functional wood pieces and gives the mundane new forms that delight the eye while subtly reconnecting the viewer with one of nature's most fundamental resources.
If you are in or around Philadelphia around Friday, March 27th, and you'd like to be the first to see (and have a chance at purchasing our brand new pieces!), this invitation is for you!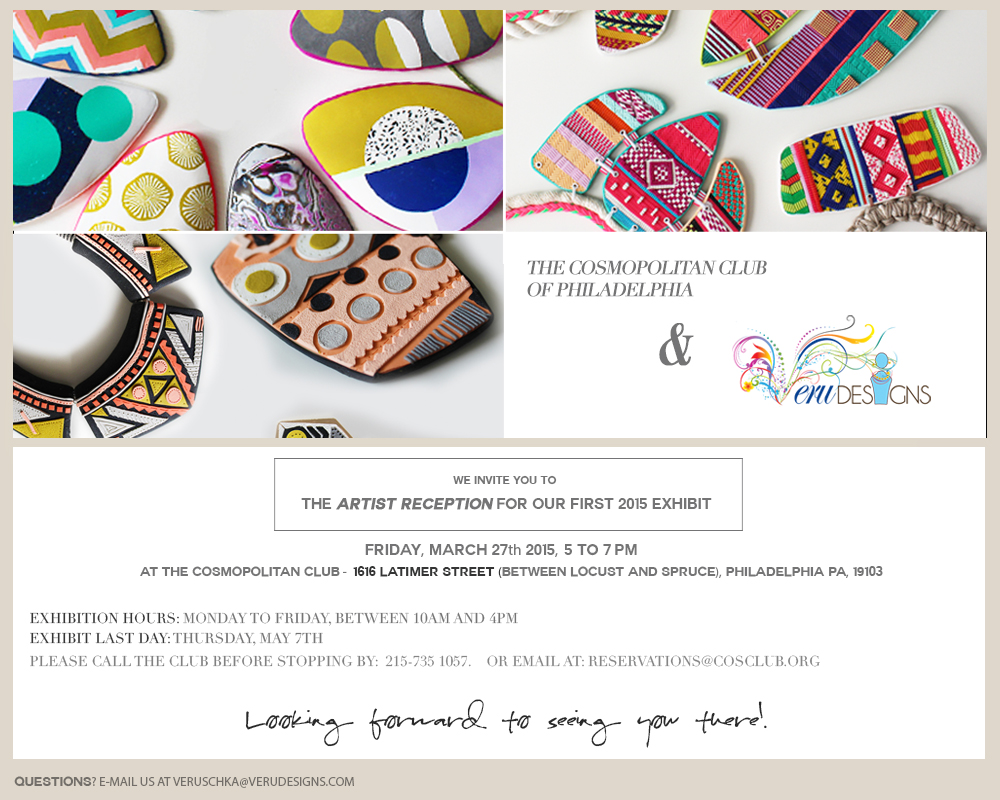 It will be an honor to have you at our opening, and meet you in person. Feel free to bring a friend along as well! It's going to be a lovely evening of Art, cheese & wine, great conversation and Jewelry of course.
The exhibit starts on Friday MARCH 27th and goes until Thursday MAY 7th, 2015. If you can't make it to our opening, feel free to visit anytime Monday to Friday, between 10am and 4pm. Just make sure to call the Club ahead of your visit (see all the details in the invitation).
SECOND:  We have a detailed but short Behind-The-Scenes-Video

on the making of today's Necklace!
Today, I'm unveiling a new necklace created exclusively for the exhibit, called THE PRORSUM NECKLACE.
I generally use different techniques that vary in complexity for making our jewelry. This necklace in particular was made using the simplest technique I know. However it is equally one of the most time-consuming and very much detail-oriented as well.
Inspiration: Before we jump into the video, it's worth noting that our Necklace was inspired by a gorgeous handbag by Burberry, from their 2015 PRORSUM Spring Collection.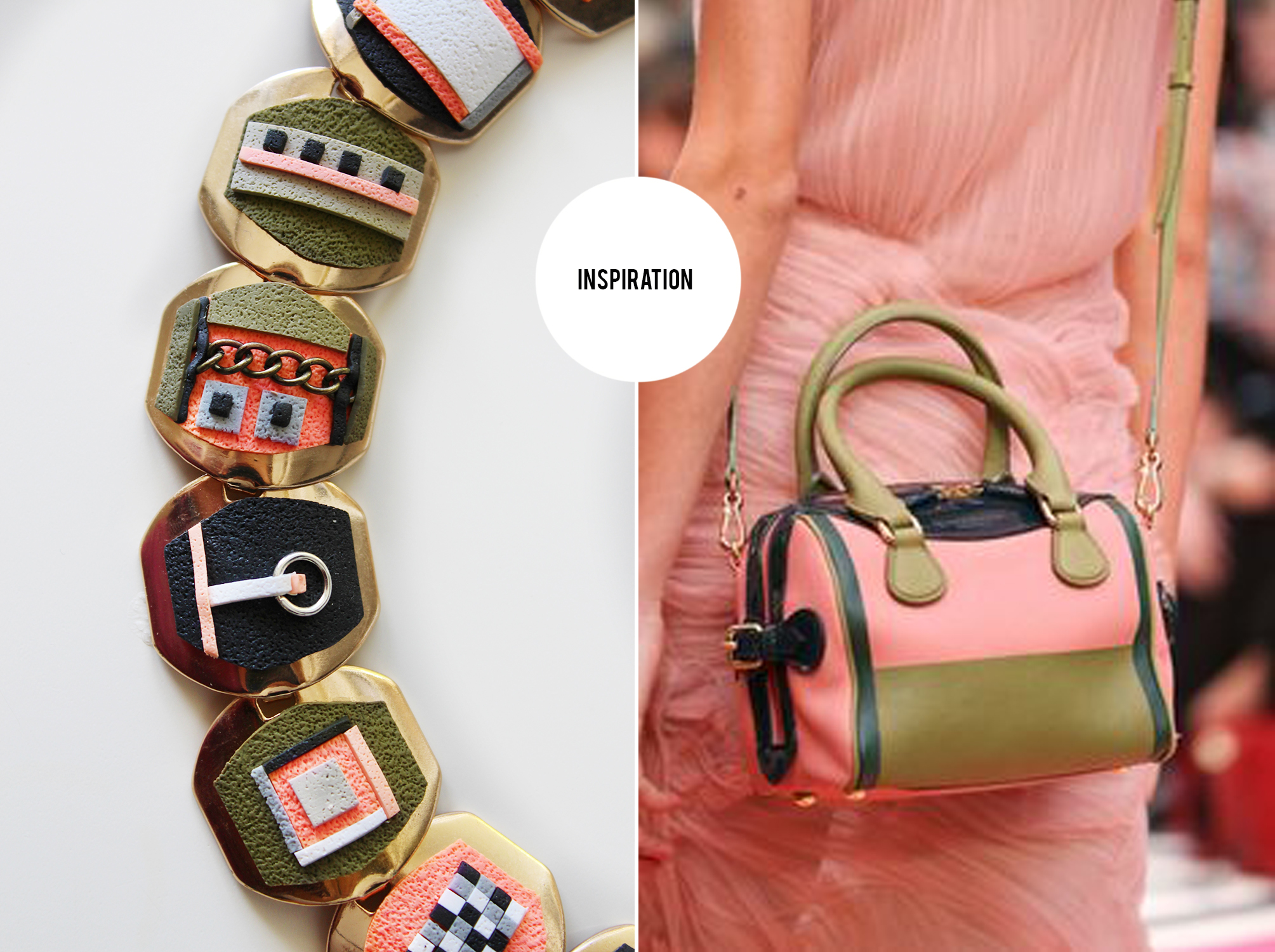 I've been wanting to share a behind the scenes video for a while. However the complexity of some techniques  that would involve a much more cumbersome filming process, kept delaying this idea. When this necklace's design came up, I knew this was the perfect example to create a video that any of you can not only enjoy, but try to apply yourself on a similar design idea, no matter what skill level you have.
Enjoy!
Make sure to have a closer look 🙂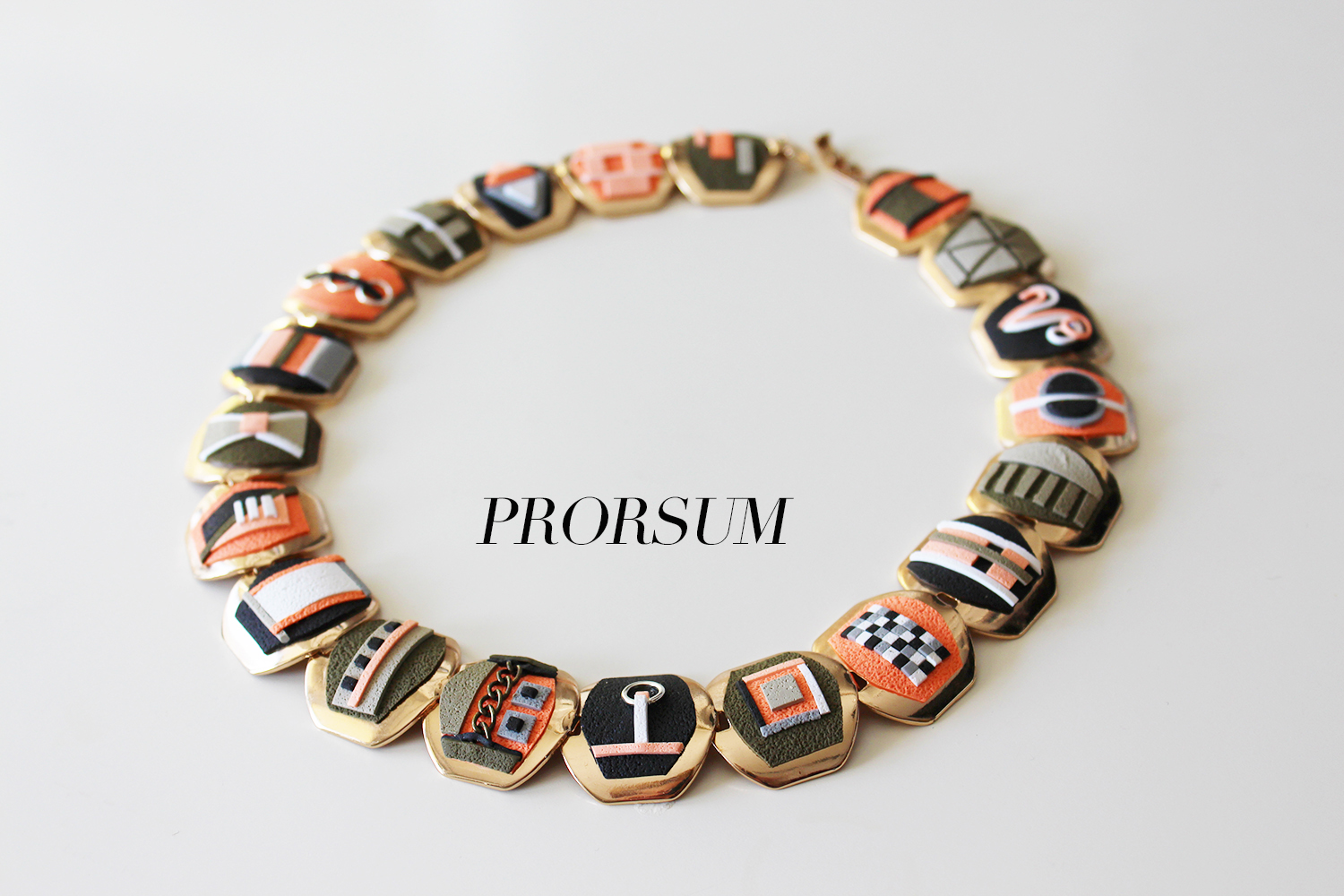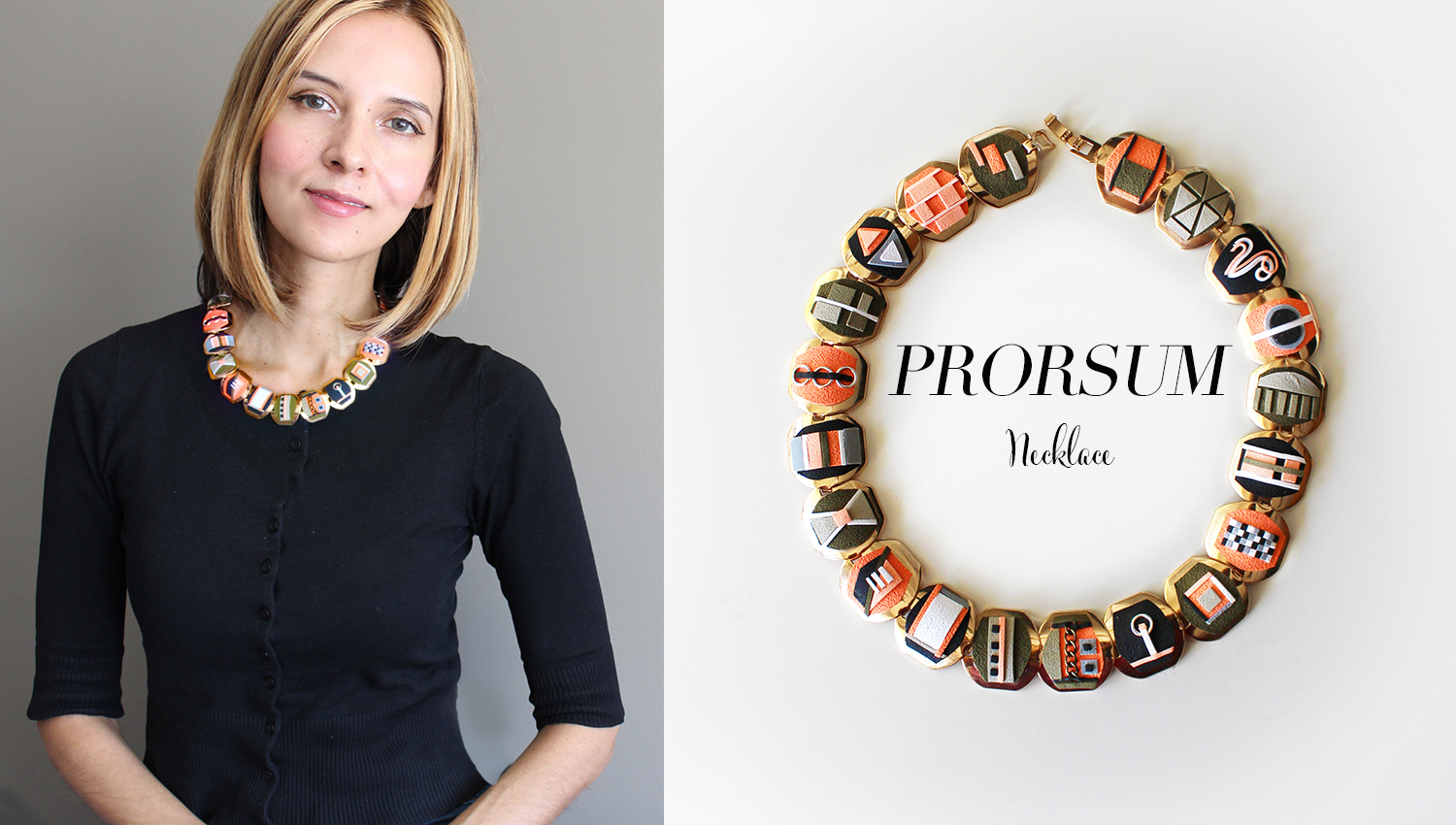 Every single "shell" has unique design based on the primary colors of the inspiration: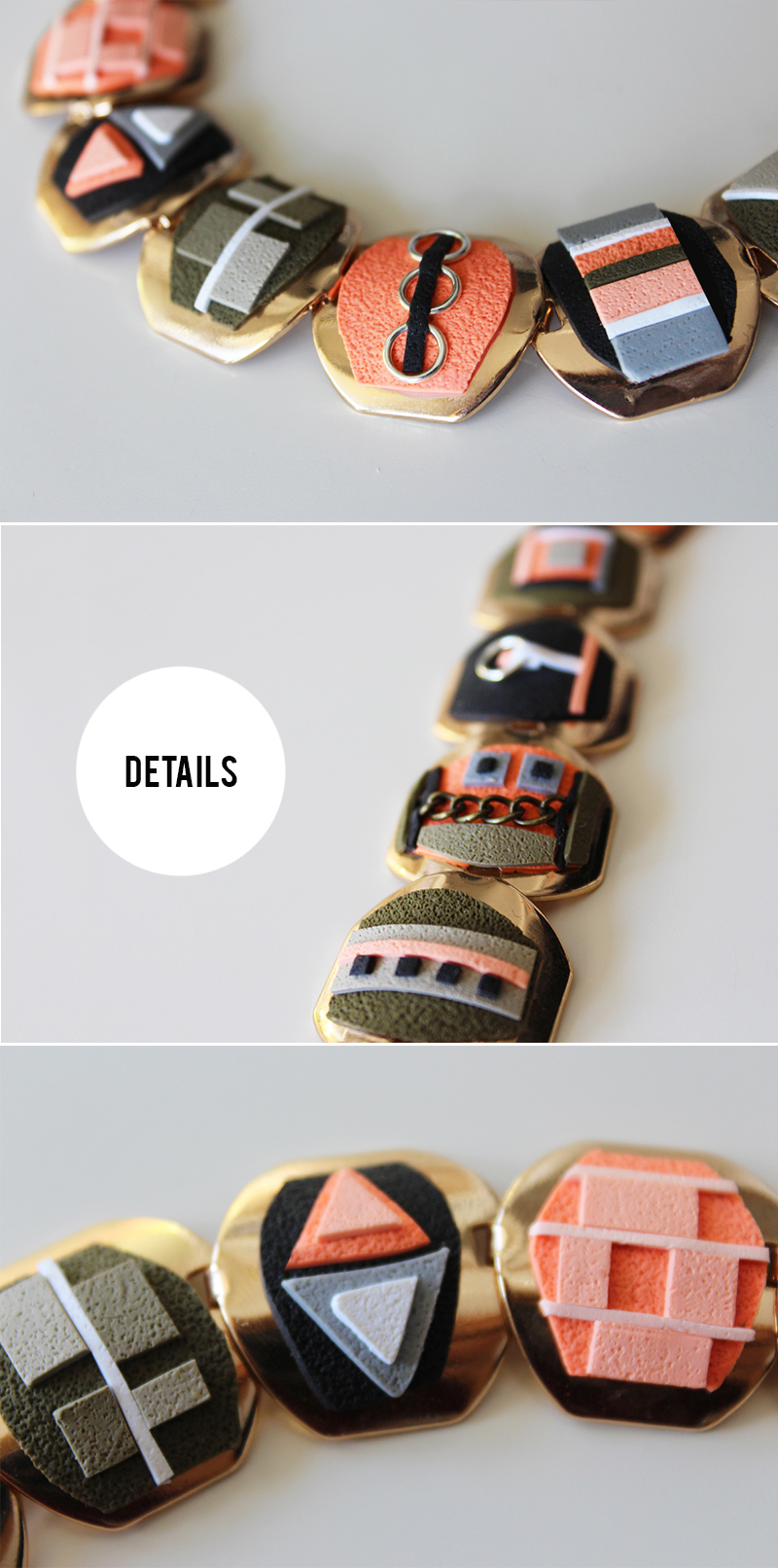 If you liked today's post please SHARE IT!! Share the love with your friends and loved ones:-)
And if you feel so inclined to share your thoughts, I'd LOVE to read your comments and/or feedback below.
Have a lovely rest of the week, and I hope to see you at our opening!!